TW SADDLERY  
  If you are feeling frustrated with a hard to fit horse, want to maximize your horse's performance or you are just looking for a lighter more comfortable western saddle, TW Saddles are the way to go.   Lightweight, close contact and comfortable, TW Saddles feature the same patented 3-D fitting system proven world wide by Specialized Saddles.   
  Here are a few examples of the many different TW Saddle models for trail riding, western performance, speed, dressage, gaited and pleasure riders.
  The 3-D Fit System lets you adjust the width, arch and angle of the saddle.  Each side can be independently adjusted to achieve the best possible fit for symmetric and asymmetric horses. 
The adjustments can be easily changed at your barn as your horse changes
or if you need to change horses.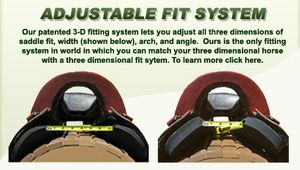 If you buy a saddle that fits really well today and cannot be adjusted,
chances are it will not fit in a year from now and you will be saddle shopping again.
  Your horse's saddle fit should be thoroughly evaluated every 6-12 months.  Adjustable saddles can adapt to the changes with minimal cost compared to purchasing additional saddles. 
  TW Saddles come in several different sizes, colors, tooling options, fender choices and skirt options.   Occasionally the "right" saddle is already in our inventory but, usually we need to order a saddle customized for you and your horse.   
    To have your current saddle fit evaluated or to try one of our TW Demo Saddles go to our online registration form to try some of our demo saddles on your horse.  The $149 fee covers your first appointment, the set up and delivery of your saddle and the first refit for that horse in 3-6 months.

Terry Peiper, Fit Right Saddle Solutions is an Independent Saddle Fitter representing TW Saddlery in Crossville, Tennessee