Before moving to TN in 2017, Terry Peiper had been "Helping Horses With Their People" in Maryland and Pennsylvania for over 35 years by training horses and riders.  In addition to being an accredited Richard Shrake Resistance Free ® Trainer/Instructor, she was certified by the American Riding Instructors Association (ARIA),the International Society of Rider Biomechanics and Saddlefit 4 LIfe as a Saddle Ergonomist.
  She has more than 50 years horse showing experience in several different disciplines, as well as several years of barrel racing, fox hunting and open show judging experience.  You could say she has been there and done that.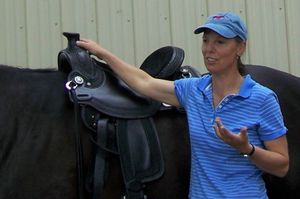 Studying saddle ergonomics started out as just another way for Terry to help her students however, it quickly took over her life when she discovered that her own horse, Easy 

(Easy's Story)

had a condition called kissing spines which was likely caused by many years of riding in poor fitting saddles. "I can't go back and undo what I have done but I can spread the word about proper saddle fit to prevent other horses from needless suffering" says Terry.
 But when Terry began spreading the word about proper saddle fit and evaluating saddles for her students, the same question kept coming up, "Where do I get a saddle that fits?"  For most riders, finding a saddle off the rack that fits is very frustrating, expensive, time consuming and sometimes even impossible.  Terry says "that's why I do what I do." And since horses change shape every 6-18 months the logical solution is an adjustable saddle.  
  Recognizing the huge need for proper saddle fit, Terry started FIT RIGHT SADDLE SOLUTIONS and passionately pursues her mission to "spread the word about proper saddle fit, how it affects the horse's performance, behavior and ultimately the health of horse and rider" to prevent horses from needless suffering. 
   
   Now based in Crossville, Tennessee, Terry works with all types of saddles but she prefers the adjustable saddles that she knows can be adjusted to fit continuously.  The saddles she carries are adjustable in the width, angle and the arc, so that when the saddle no longer fits, it is not a problem.  She can adjust them onsite to fit the horse or another horse again and again. 
  We don't know what we don't know, education is the key.
CLICK HERE FOR SOME OF THE ARTICLES TERRY HAS WRITTEN