"I just wanted to tell you that Saturday's clinic was really helpful.  I am so glad I came!  I am going to ask around here and see if they are interested.  I will let you know.  And, thanks for working on my saddle.  I am going to try it out this afternoon  It is a wonderful fall day, sunny and beautiful.   Another thing.  You said that the clinic was not going to be sales pitch.  You held to your word; it was simply educational, I think that speaks well of your interest to help people and not just make money off people.  But, if I did not have my saddle already, I would have asked to learn about "the adjustable saddles" that you mentioned a couple of times.  And... thanks for lunch,  It hit the spot!"
Vicky Boulton   Canton,GA
---
"Thank you so much for hosting the class yesterday.  I learned so much am very excited to pretty much throw a saddle on everything just to look at it."
Tess McHone   Knoxville, TN
---
Hi Terry,
I finally got Jimmy up to the mountains for some tough riding.  We did 20 miles of trail riding and then a 20-mile Ride & Tie race over the last week.  His saddle did wonderful!  No slipping on the steep uphills or downhills and these were very tough trails.  He had a breast collar but no crupper and no forward slide - it sat right in place.  All As on his vet scores for his back in the race (and he had a sore back with previous saddle in races).  So thankful for your assistance and super happy to have a great fitting saddle for Jimmy. 
Thank you again!
Alison Zeytoonian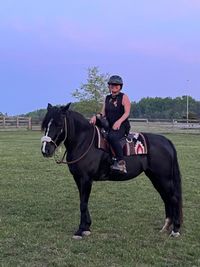 ---
Terry, you made me one happy lady.  I love the saddle and the close contact feel.    
Thank you, Audrey Bone
---
Thank you sending those cushions so fast, received them yesterday, today was the first day I've really ridden him since the fitting, he was a completely different horse, calm, relaxed, didn't gait fast, actually walked for the first time on a trail ride since i bought him in November, your a miracle worker if it was saddle, and that's the only change since the last time I rode him😊
Mindy Pratt
---
Facebook post from Kelly Arnold on January 24, 2022
KLA Dressage, LLC
I'm excited to announce that I have officially switched both boys into Peter Horobin Saddlery StrideFree® saddles. I never thought I'd be able to give up my old saddles (especially that gorgeous brown one I was planning on being buried with…) but it was time for a switch after fighting a losing battle with TT's recurrent back pain. After entirely too much time on the internet researching saddles and multiple appointments with multiple fitters, we decided to go with the Geneva Monoflap. Both horses feel fantastic after the switch. Tango has become much happier in his flying changes, and Huntley has packed on 2 inches of topline in about 6 months. I also have to say that from my end, the Geneva is the most comfortable saddle I've ever sat in. I'm so glad we were able to find something that we all loved.
Just as important as the saddle is the customer service. My Peter Horobin Saddlery rep is Terry Peiper with Fit Right Saddle Solutions. I have been absolutely impressed by how thorough and knowledgeable her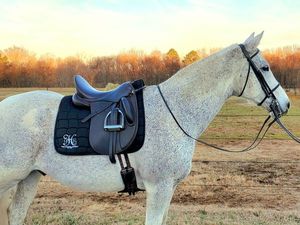 approach to saddle fitting is. Each of my clients have gotten the same time and attention as myself, and I appreciate that she is willing to work with different brands of saddles instead of just pushing that everyone must go out and buy something new. She has also continued to be very communicative post-sale.
Here is more information on both the saddles and on Terry:
https://www.fitrightsaddlesolutions.com/home--2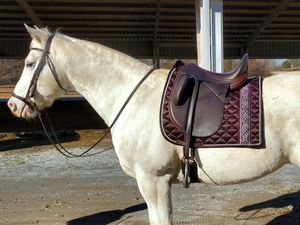 I'd also like to thank Sheila @showhorse.sporthorse for help with the photos.
---
Facebook post from Ryan Myracle on January 24, 2021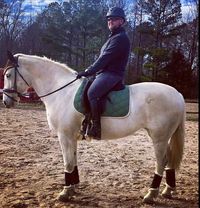 Over the last 6 years that I've had Luna, we've struggled with saddle fit at times. She went from a gangly 5 year old to a stocky wide mare. Now at 11 years old, her shoulder angles have changed as she's gotten even more fit thanks to the awesome lessons we do with my friend Linda Brackett.  Her custom made Black Country Dressage Saddle we got in 2016 became to wide for her.  We tried shimming, half pads, reflocking and anything we could come up with to try and keep her comfortable.  Yet, the saddle kept soring her and was causing me knee, hip, and lower back pain when I would ride. 
After doing some researching, I came across Terry Peiper at Fit Right Saddle Solutions in Crossville, TN.  I can't say enough just how amazing Terry is!  From our very first email exchange, she began assessing our situation and felt she knew exactly what we needed. I was so impressed! Since I am a distance away and don't have my own truck and trailer, Terry was gracious enough to look at my tracings, videos and pics to locate a new saddle that we could try. She recommended a Peter Horobin Dressage Saddle with their awesome StrideFree tree that is adjustable and could be narrowed or widened if her body changes dramatically. 
When the saddle arrived a little over a month ago, Terry scheduled a time to come measure and assess us in person then let us try the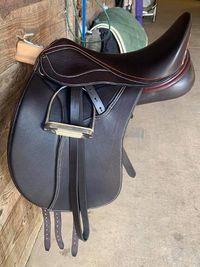 saddle once she fit it to Luna's shape.  Terry was s thorough and saddle felt amazing!
The saddle we tried was an 18.5 Gerd Heuschman Dressage Saddle made by Peter Horobin. It was a beautiful dark brown with caramel and oxblood welting and white stitching on the cantle. I had the option of keeping it or having one made in black. When I saw it in person and rode in it, I fell in love! Terry also fit Luna with a very comfy natural fleece Christ dressage girth. She was so happy; and the saddle looked really goo on her! 
So, I made the decision to go with the brown! Which meant I had to order new brown leathers, a new brown bridle, and brown reins. Oh, and a new bonnet, a new pad, and boots with natural fleece to match her girth! You know how it is with horses, you can always find a way to justify those purchases!
The last month I've been riding in this amazing saddle just waiting to brag on Terry and show you all this beautiful saddle. Now that the bridle and all the other items have made it hear, I can share!
If you are in TN and need English or Western saddle fit assessment or are looking for a new saddle, please consider checking out Terry Peiper at Fit Right Saddle Solutions! And, if you are in the area and your horse needs a Certified Equine Sports Massage Therapist or you would like riding lessons with your horse; contact my friend, Linda Brackett, at Hand to Horse Equine Sports Massage Therapy.
---
Facebook post from Monica Quarmby on February 3, 2021
I have a Wade.  I like it for me, comfortable and not too heavy like my old style stock saddles.  The good part is that I can adjust it to fit my horse or multiple horses.  So many people just fit themselves and then the horse suffers.  With the TW you get a custom fit for your horse too.  I'm in Jamestown, TN have Terry Peiper close by.  She is great!
---
Hello Terry,
Q-T's event went extremely well.  It was a 27 mile I distance with 50+ riders, high humidity 76-80 degrees.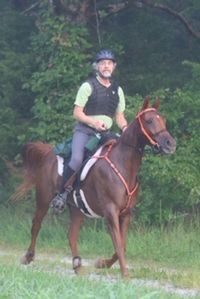 Several long dissents and climbs with lots of rolling up down. Trail was a mixture of eroded rocky sections and smooth sandy sections fairy technical. I started her last and ran a good pace to try for negative splits so on the last 10 mile section I let her pretty much pick her pace but kept her in check she still completed it in 1hr 15 mins, overall time was 4 hrs and she finished 10th with all "A's" rated by the vets. She is a hoot to ride all business And loves to tell me about it and becoming good at reading the trail.  Saddle fit was great, she travels straight and had no back issues.
Thank you for the work you did on Q.
Pete Ricci
---
I bought a saddle from Terry with three different sets of padding to take care of three different horses. For ten years I struggled with sore withers on all three horses. Since using the new TW saddle I have not had one sore wither. I also have a fused spine and the saddle has been great for my back as well. Highly recommend!!!!
Laney Ware FB post
---
Hi Terry,
Thank you for shipping so promptly.  This is my second Christ girth and I love them.  My horses are happiest in them out of all the girths I have tried.  I appreciate the washing information as I haven't tried using the drier for fear of what might happen!  
Thanks so much!!
Kathleen Warren
---
We are loving our new saddles! Wizard's stride length on the trail seemed like it increased a foot. He has so much more impulsion and no sore back. Mom is loving her saddle too! Thank goodness for a good fitting saddle because she would have come off today without it when we got into the yellow jackets. I will send more pictures on our next rides.
It was so nice to not see him back sore when I gave him his bath after riding. The sweat scraper usually always makes him hollow out his back... not today! We will hit the trail again this weekend. I will keep you updated. Mom is having a little trouble with finding the right stirrup length/leg position but I think we are getting there. I literally saw her almost come off today when we got into bees. If the saddle would not have fit so nice and slipped at all... she would have fallen off. She did a good job.
Thanks again for everything,
Natasha and Rita Amari
---
The evaluation today was an excellent experience!! It was a joy to work with Terry. It was fascinating to learn so much about the anatomy of our horses and how much saddle fit affects their movement and comfort. I can't wait until I'm able to get a new saddle for Jingles!
Thank you again,
Susan Hiser
---
Ok so to say I'm excited is a huge understatement. After trying/buying (and selling) at least 14 saddles I decided to have a custom saddle made. This saddle is NOT like other custom saddles. So if you love your pony you truly owe it to him/her to get a saddle that frees them up to move as they need to naturally. So many problems (physical as well as behavioral) can be attributed to incorrect saddle fit. I highly recommend Terry Peiper with Fit Right Saddle Solutions. She is very knowledgeable and truly caring. Check her out!
Angela Pauley FB post
---
I had an amazing day today learning about saddle fit with Terry Peiper of Fit Right Saddle Solutions!! I have had such a hard time finding a saddle that will fit Domino I was nearly at my wit's end. I met Terry a few months back and I was finally able to schedule and have her evaluate Domino's back. Boy was that an eye-opener! Poor Domino's back is all kinds of crazy and all my saddles fit terribly. It's a wonder she even let me ride with the amount of pressure that her ligaments and spine have endured (we rode without a pad and traced the dust marks on her back after, it was pretty bad).
The REAL test was riding in my saddle then riding in one of Terry's saddles that was specifically adjusted for her back. The ride in my saddle was chaos. As soon as we put the fitted saddle on her back, my posture improved, her posture improved, and we had one happy mare! Her behavior improved tremendously and I could feel that her shoulders had "freed up" and she was able to move like she is supposed to.
I can't say enough wonderful things about Terry, she took a ton of measurements on Domino, myself, my saddles, and she made sure I understood the shoulder angles, the anatomy of the back and muscles, and how a good fitting saddle is supposed to fit. She knows her stuff! If your horse is in pain and you suspect it's your saddle, please give her a call and get it fixed quick! Your horse will love you for it I promise.
Shawna Prater Davenport FB post
---
Terry,
Thank you for all the help with Toby over the last few years. The saddle has been great. I am sad to see you leave the area, but wish you all the best. I hope the new folks can continue to work with us down here, Toby has really benifitted from your work.
Love the Christ girths, just ordered the brown one too.
Best of luck,

Ginny Pierson
---

Hi Terry,
I've been meaning to write to you and let you know how pleased I am with my TW Texas Wade saddle.

I took my mare to our first western dressage show this summer at Blue Goose, and we got 67%. I was so happy when I saw my own riding value was a '7'. My sister said my position looked very good, and I find the saddle helps provide a naturally balanced seat. And of course it's super-comfortable for trail riding too.

Thank you so much for a great fit for Bronwyn and me!

Warm regards,

Nancy Ryder
West Chester, PA
 
---

Hi Terry,
My saddle is wonderful and I love how light it is and how comfortable
it is to sit on. I did an obstacle course trail ride in it and I had no aches
and pains when I got off Lucy, which was very exciting! Also, love the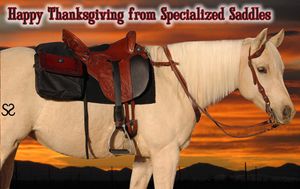 picture. It does look like Lucy. 

Thank you, Juls


Julie March
Certified Horse Massage
Trails & Tails, Equine Sports Massage





 
---
Hi Terry,
LOVE IT!  Did I mention that I love it? I LOVE IT!!! The saddle now has about 40 miles on it. Horse is happier. I'm happier. My thighs? That's a different story...let's just say they apparently weren't getting worked in the old "chair" position that my all purpose saddle was forcing. That took me by surprise. But I think my thighs are coming around to the idea of a newer, better saddle. 

Thank you!!
Jessica
 
---
Had our saddle fit apt yesterday and it was great. Terry Peiper came out and measured our horses and saddles and us. Mr Red ended up getting a new saddle, I had a feeling the other 2 saddles didn't fit, he is so wide so I'm glad we got something that won't pinch him and in the long run hurt him. And the saddles that I won, won't be using them. They are a big part of why my back is giving me problems (ironically my back went out on me 2 weeks after getting them and have been in pain since). Riding in the TW Saddlery saddle is like being in a Cadillac, feels like it has shocks. I'm sure Red feels much better. I am able to use my Circle Y on Jasper with a proper pad so that is good news.
And Vickie who has her 2 horses boarded here had her new horse checked. She's had him about 2 months and she got his custom fit dressage saddle with him when she bought him. WEELLLLL.... The saddle is way too long and definitely didn't fit him. It was hitting him in the back behind the last rib, you could see major rub marks there. He has been rode hard every day for 3 years in this saddle and now has problems with his rear end/stifle area. Proper saddle fit is a must!! For you and your horses sake. It's just sad that this saddle was custom fit to him, whoever did it sure didn't know anything about the anatomy of a horse and where the saddle should rest.   Anyhow I highly recommend Terry Peiper and Fit Right Saddle Solutions. 
Tammie Hoffman Fisher
 
---

Terry Peiper saved Reiner and my back as well. I liked my old saddle but after two years Reiner started to buck we knew something wasn't right so with  Linda Stoeckmann Hansen's advice we went to see Terry Peiper and she is amazing.   Love my TW saddle and the best part is I won't ever have to buy another saddle, if I get a different horse she can fit my saddle to that horse. Thank you once again Terry.
Malissa Myers
 
---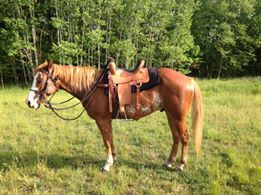 I gave Abe the day off on Sunday to recover from the long day Saturday, but we hit the trails yesterday. No more refusing to go down hills, no swishing of the tail or tossing of the head! And after a couple of hours in the saddle I felt good too! I am so thankful I was recommended to you by Sharon & Bruce.   My only regret is not coming to you last year. Thank you so much! I look forward to working with you in the future to keep Abe happy, comfortable and healthy with our new TW saddle! 
Megan Alexander






 
---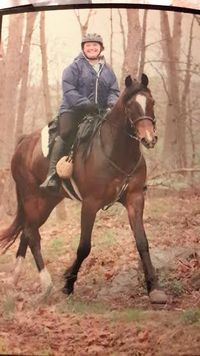 I just wanted to send you a photo of Brave at his first endurance ride from last weekend.  
After 30 miles on the rocks and mountains of Virginia, I was most pleased to find that his back was happy. God bless that saddle!  It makes us both so happy.
April Dobson











 
---

So glad I finally made it back to see you. You are the best! Amir has been reset to do well and Gus and I are over the moon with how he felt after your adjustment of his saddle. Terri you are the best!!!

I thank you and the  boys really thank you for the work you put in that helped them to feel better and made me feel better riding them. Great day had by all:-)

Laura Kniffin
---

Thank you Terry Peiper for checking Bo. His body changed and now his saddle perfectly fits his back again. And Indy...ears forward and moving out! He loves the comfortable fit. Thank you so much for your time and expertise. The boys are very comfortable, springy and happy!!! FIT RIGHT SADDLE SOLUTIONS you rock!

Laurie Grenoble
---

Terry,
Hope you have a great holidays!
We want to thank you and Schleese Saddlery again for helping General and Shrek.   In the two years since General first received his Obrigado saddle, he has gone from barely ridable to placing 7th in his 1st Level Championship class at the October, 2014, Col. Bengt Ljungquist Memorial (BLM) Championships.
Shrek has just received his Obrigado but immediately started showing benefits.  He doesn't fuss when he is saddled up.  He takes longer strides even when simply walking over the mountain behind our farm.   He is much more responsive to the leg whether asking him to go forward or moving sideways away from the leg.  He is much more in front of my leg and at the same time his hindquarters are more underneath me.  His lateral work has been improved immediately, and the trot on this 18-hand, 87" blanket size, Thoroughbred, is suddenly much easier to sit.
We couldn't be happier, or healthier.
Thanks again and best wishes for the New Year.
Ann Corrigan, General, Shrek and Debbie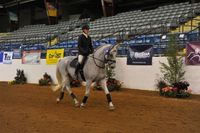 ---
Thanks! I hope you know how much we appreciate your time and knowledge that you so freely give!! I have had horses for 30 yrs and this is the first time I have truly started to understand saddle fit and the importance of a great (not good enough) fit! It has explained so many problems I have had with past horses!

Thans again,
Alex Foster
---
Hi Terry,
Just wanted to say thank you again for fitting Missy with such a fine saddle!  She really moves better with it and everyone is SO envious!

Tammy Hogan
---

I'm so happy with my new saddle!  We rode Lily for over two hours Wednesday and she was very smooth and had fun gaiting!  I always had sticker shock when thinking of buying a Specialized Saddle but I now know it is a small price to pay for the comfort for my horse and myself.  I now look at it as an investment for myself and horse.  

Thank you!
Cheryl Roth
---
Terry, I rode Wiz on Saturday, just walk, trot due to this stupid cold I'm fighting. He was nice and forward and not fussy. I finally got up enough steam to ride him today and he was great. He cantered in both directions when asked and rounded up at the trot more than ever before. He was so good, I could hardly believe it. .
The saddle fitting really worked for Wiz and I felt better balanced in the saddle myself. I should have caught up with you sooner, but glad I finally did. I won't miss a fitting in the future and I will contact you if Wiz starts showing soreness problems with his saddle right away.

Thanks
Take care, Lita
---
Terry,
Received your kind note. Thank you so much for taking all the time you did to fit Toby for the western and dressage saddle. I love this saddle. It is so light and sits so well on his back. He really seems to move better with it. I found a nice black bridle and a felt lined girth so he is all decked out! Trainer Amy approves so you know we are happy campers!
I did have one question, what was the best way to clean the pad?
Thanks again,
Ginny 
---
You're probably still on vacation, but wanted to let you know I finally got a chance to ride for two hours in my new Eurolight--up and down steep hills too. LOVE it! The twist is more narrow, seat more cushy and you were right about the 16" being too big for me--the 15" is the correct size for me. I have much more contact with my legs now too. 

I know I'm eventually going to have to trade in my beautifully tooled International for another beautifully tooled Eurolight for Chocolate and checking on the options/costs. I think the wider International twist jabs into my seat bones and was one of the causes of my sciatica which I'm still going to PT and chiro for. In the meantime, I ordered a different Cashel cushion to fit the International to cover the hard ridge that I feel in my seat. I feel so much more comfortable riding in the Eurolight and Magic was going better too with his lighter, well fit saddle.

For people who are looking for a trail saddle with the security of a cantle and pommel, but with the close contact feel of a dressage or English saddle, I would really recommend the Eurolight. I only wish I had been able to try out both the International and the Eurolight four years ago when I got the International. I would have chosen the Eurolight. Glad you selected the endurance seat and not the rear balance trail as well.

Thanks again,
Jan Villastrigo
---
Hi Terry, wanted to give you a update on Wrangler. His back has been feeling good. Still just bringing him back slow. The saddle is awesome. I think it is just what the doctor ordered. LOL. He isn't tripping and his stride is sooooo much better.. Can't thank you enough..    
Sharon Carl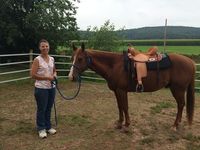 Terry  & Wrangler with his new TW Barrel Saddle
 
---
Terry - I just wanted to send you an update on my new saddle - The horses really seem to like it! Carolyn is going more sound than she has in years. Frito now is able to bring his haunches underneath himself for more than a couple of strides. His trot seems to have more bounce and energy. Changing the pads out for the two is not at all difficult - I am trying to figure out the "landmarks" to be sure I have them correct for the two horses. To get the pads wide enough for Frito - I lined them up with the top of the velcro strip - for Caroline, I used the top of the saddle bar. Thanks again for making one saddle work for both horses!
Kathy Moore
---
Terry,
My trainer, my horse and I love my new TW Wade saddle. Please feel free to give my name to anyone that wants a reference.  I am enjoying my saddle more each time I ride it!  Puts me right where I belong, and so comfy!!  Take care and thanks again! 
Paula & DJ 
---
Hi Terry,
Still very happy with the Specialized, and I think Peanut is too.  Even my instructor had to comment on the difference in his gaiting.
By the way, I am actually excited to ride now whereas before it was something I felt obligated to do as a horse owner. I am also not as terrible rider as I thought once I freed Peanut's hind end. I raised the stirrups a hole and rode for an hour and a half today and did great. It was also the best trail ride we ever had. :)
Out of the ring he seemed happier, more accommodating, and more relaxed.  When asked for speed, he was more willing. I didn't have to ride every stride and I could actually look around and enjoy the view.
What I have noticed since might interest you as well!
Under saddle he would breathe heavily after the smallest exertion, and sometimes just after a while or ordinary riding. When I rode yesterday, I did more work at speed on trails than I have in years, and while I could feel that he was getting fatigued, he never started blowing. It took me until after the ride to realize this, so I confirmed it with the person I rode with (who knows Peanut well and knows how he breathes hard at the slightest thing), and she realized that, yes, he didn't do that at all.
TWHs are known for their gaiting, but as I told you at the fitting he was always eager to offer a canter instead of a gait. I have heard of one time and have been aboard twice when he gave a very fast running walk - the kind that I had only read about. During yesterday's ride, I was able to ask for it at will, keeping him out of the canter. This was an entirely new thing, and he was able to keep it up and at a beautiful 4-beat.
I also believe that his canter is now faster when I want it to be. I had always considered him the slowest horse in the world, whose canter would match Gene's extended trot. I was out riding with a friesian, whose trot also matched Peanut's canter. I was in front, Peanut was cantering fast, and the friesian was behind us. Afterwards, I was surprised to learn that the friesian was cantering as well, and not passing us let alone gaining on us.
I'm so happy and falling back in love with my horse!
Thanks again!
Sara
 
---
I finally am getting back to you about the saddle fitting.
Both boys are going fabulously in their respective saddles. The change is unbelievable.
The really noticeable change is going down hill. Always before it was rushed (for both boys) I didn't realize how much the saddle fitting would change the whole picture! Now when we descend the hills they are way more comfortable and deliberate with ears forward and tail not swishing.
Thanks again it just keeps getting better:-)
Laura Knifin 
---

Terry I can't thank you enough....we have had absolutely wonderful rides every day. Kassy is pleasant for tacking up and the entire ride is relaxed, even at the canter. I finally have my mare back and she's even better than before...we're going to take it slow and build our physical strength and emotional bond again, this time to a whole new level! We are forever grateful for your knowledge and sincerity.Warmest regards,
Audra Evanick-McGough
 
---
 
Hi Terry,
CC is doing great and I absolutely love my saddle! I was riding her all by myself last Sunday and she was wonderful. I see her head dropping and extending so much more with this Schleese saddle. She feels relaxed and at ease when I am seated. I sit so much more comfortably on my seat bones and my balance comes much more easily. I attached a picture from a couple of lessons ago...my daughter took it with my phone (a little blurry).
Thank you so much for taking the time to get this saddle perfect for CC and I! I can't say enough great things about the entire saddle fitting experience with you!!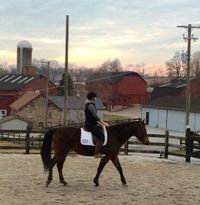 Best Wishes,
Jen Addy
---

Thanks Terry Peiper FIT RIGHT SADDLE SOLUTIONS for fixing Levi up with his very own saddle that is so comfortable for both of us. Perfect saddle for this big Percheron boy! He looks so handsome. Beautiful riding today.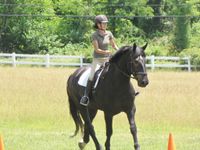 Tonda Lewis
(Facebook post)
 
---

Hi. Forgot to give you an update on the saddle and Dakota's bucking.  lol I LOVE my saddle. I can ride in anything, bareback ect, but it is so easy to ride in my saddle! Less effort. Dakota has thinned out and I think the saddle fits her better now. As of yesterday, she did not buck once! A little on the lunge , but I think she was playing. She settled quick. I hopped on and she loped both directions without a buck! She tried to trot her way feverishly into it, but then after some practice, she found her way. I also used her to pony another pony! They were difficult at 1st together, then we got a rhythm! Fun! I love thoroughbreds, my quarter horse pony is amazing!!! Love her. She is a pleasant and happy girl.  

Jennifer Marie Frieze
(Facebook post)
---

Hi Terry,
Just wanted to say thanks for working with Richard and me regarding Josie's bit issues – I really appreciated it.  You took the time to confirm your suspicions and you were right on the money!  We told quite a few people there that you were our trainer (and we're proud of it!).  Of course, getting the name out there through word of mouth as client testimonials is a powerful marketing tool.  We try to do that as much as possible.
Hope all is well – we'll see you on the 18th. 
 
Gary Roeder
 
---

Good saddle fit helped my gelding. Before Terry he was always a sweet horse, but did not want to move out (canter) or did not turn very well; After Terry came out and fit him to a really nice saddle from TW Saddlery he now moves out beautifully. He has become not only the perfect partner, but a Happy Partner. We now do a lot fun shows and you can tell he actually enjoys it. I will forever be grateful to Terry. I am a True Believer in the right fit not only for the health and happiness of the horse, but for the rider as well. A Great Partnership with your horse is everything. 

Vikkie Erb 
(Facebook post)
---

Hello Terry
I just love my TW Saddle. I used to think there was nothing better than my Circle Y trail saddle but not anymore. I can ride in it for hours without my knees and ankles bothering me at all. While my other friend riders are complaining about their butts, knees, and other parts hurting after a "few" hours in the saddle, I can smile and say " I feel fine" HA HAHA. Well worth the investment.
Happy Riding!
Jani Boatwright
 
---
 
Hi. In case you are not on Terry's email list, here is her latest newsletter. She is offering a discount on her saddle fit services. 
If any of you have seen one of her demos, you will know she is not a high pressure sales person. She has done demos at the Horse Expo and she also does demos throughout the summer at her farm and host farms. She did a demo at two of my riding clubs this summer. Very informative presentations! She actually draws on a horse to show where the saddle tree should sit and why. Then evaluates the saddle used on that horse. . . . During her formal evaluations, she actually takes measurements of the horse's back, using specialized equipment. . . . If you were ever confused about saddle fit, or have a problem with your saddle and may not know exactly why or what the answer is, Terry can shed some light on the topic. And if you like, she can also offer names of some saddle companies she has worked with to get good fits (for horse and human).
As I am sure, you know, saddle fit, is not an easy process. Terry definitely helps demystify it. (And I know she is open to having people watch saddle fit evaluations. So if she has any evaluations scheduled and the human agrees, I suspect you could watch the process too. You'll have to check with her on that.)
Hope you are enjoying the summer!! Hope to see you all soon!
Pam
 
---
 Terry,
Zippa and I are loving our new saddle (Schleese Triumph). I am seeing positive changes in Zippa physically as a result of being able to carry herself more comfortably and after an initial adjustment, my unstable sacrum is loving the saddle. Even during a few uncomfortable periods of bucking, I never moved in the saddle. I believe Zippa's bucking was behavioral and we are working through it. One day last week, Zippa trotted and jigged constantly for 3.5 hours. My back was a little stiff the next day and that was it. i was never uncomfortable in the saddle. Hm, maybe Zippa feels too good in the saddle.....

I am the most thrilled that I completed the 10 times of using the Passier Lederbalsam on the saddle after every ride!!!!! Between greasing it up and later wiping it down, it quickly became a labor intensive chore that I admit I came to dread!! Haha.

Thanks so much for checking in with me. I gues s we'll see you in a month or so. Can't remember when but I figure you'll be in touch. Have a great Labor Day weekend.

Judy Hunter
 
---
 Hi Terry,
 
Just a quick "thank you" ! I love the saddle (Schleese Infinity II) and I think it I making a difference on Phoebe' s soundness, yay!!!!

I don't want to say it outloud yet, because i keep pinching myself. . . but I feel her shoulders are beginning to loosen up. Each morning I watch Phoebe exit her stall just to see how much she nods when that front right foot comes forward. Used to be I would see a pretty significant 'nod'. Now after a month with properly fitting tack, you only see a small difference in the rhythm of her walk and she just ambles down the aisle and out the door...the break in rhythm correlates to the scar tissue we know is present in her shoulder. This is just a guess, BUT if her shoulders could not move correctly under saddle, then I was not getting the stretch I needed to rehab that scar tissue, and it was just seizing up. I know it is possible to stretch it out because I have worked it through before and she was sound.
I wrote up a timeline so I could see in black and white when all my problems started , I had purchased a used Wintec saddle in July 2011 , and I didn't even like it! The girths rubbed her and I was fighting the saddle all the time. We used it for 9 months at that time I didn't really put it all together, but she had started tripping., then I bought the second saddle (the one you saw). We used the saddle for 4 months and the interrmittent lameness started, girth galls and her attitude tacking up changed horribly - stay out of her way or she would bite at you! So by August of 2012 she was very lame. Fall of 2012 we ran through the diagnostics and ended up injecting her right coffin joint. The injection lasted through the Winter (not alot of saddle time???) and when the weather allowed for more consistent riding , we injected her again. The vet didn't think there was a chronic problem, perhaps an injury, Phoebe's legs are clean with the exception of old splints.
Despite the joint injections, the irregular steps persisted. We had a lot of tests and information, but I just never imagined the impact of poorly fitting saddles. As a hunter rider, we never did more then worry about the way the saddle fit us, and perhaps to make sure the tree was wide, medium or narrow. I think of how many times I see riders use the same sadde on multiple horses and I cringe. I promise you I am on a mission to spread the word. How many horses are retired to the field for unexplained lameness that could be saddle-related?
Next month we are going to block the right foot so we can determine how much lameness is attributed to foot and how much is shoulder-scar-tissue. We may have to inject again just to help that joint heal. I am very curious. I think the poor fitting saddles caused the foot (not being able to break over properly) and I think it prevented the shoulders from truly stretching out WHICH has created knotted and poorly developed muscles up front. Seriously, looking at my horse from the front, she is crooked. Her muscles are over-developed on one side and under-developed on the other and while I know to some degree this is normal, I also believe it is a direct result of ill-fitting tack. I feel like a bad mom! Her shoulder area is tender and she doesn't mind brushing but she does not like massage.....it's all very very interesting and the improvements are exciting. I will keep you posted. I think I finally have all the pieces of the puzzle!! I also have video of Phoebe taking "irregular steps", as she improves I can give you a before and after if you'd like!
Stay tuned.....and thank you!
Lisa Acey
 
---
 
Hi Terry. Evo is moving like a different horse with the new saddle (Schleese Infinity). She transisitions smoothly and her gait has opened along with her head and neck dropping. She looks so relaxed it is amazing. Callie and I were shocked by the difference. My posting and balance has improved and I have noticed a lot less wear and tear on my knees. Just wanted to give you some feedback and say thanks for all the time you spent with us. I know Evo is a much happier girl now. I'm the only one riding her now so I suspect we will see some signifcant progress for both horse and rider!
Very exciting stuff. I love riding and can now ride without pain. I will give you a call as soon as the saddle needs an adjustment.

Thanks again!
Regards, cheryl
 
---
 
Hello Terry,
I had the fortune and pleasure to see your presentation on saddle fitting (PA HORSE WORLD EXPO). I am always striving to improve anything I can for my horse. He is my treasured buddy. Your presentation was outstanding. You taught it from the perspective of understanding, not just facts. I really enjoyed the review of the anatomy. I am contemplating attending the riding clinic by Richard Shrake in May. Attending your presentation and seeing that you are a certified instructor of his methods, encourages me that this would be a good clinic for me to attend. You are a great endorsement to his program. I live in southern Lancaster county and own my own farm. I ride a paint/quarterhorse that is a son of the stallion, Impressive. He is very intelligent and strong-willed, but kind and alot of fun. I hope to meet you sometime or at least see another of your presentations. I just wanted you to know that I will be using the knowledge from your lecture.

Thank you,
Wendy Herr 
---

"I had originally bought my Schleese saddle  (Eagle) for my veteran mare. I wanted to make her as comfortable as possible, so she would be happy in her work. With the idea that since the saddle is so adjustable it would fit my next horse when the time came. Unfortunately due to soundness issues outside my realm of control I decided to retire my mare earlier than expected. When one door closes though, another opens and in stepped my current girl. Since buying her as a late two year old she has changed shape many times and my saddle has been able to change right along with her. Every time I have it adjusted I'm amazing at the difference it make for her and for me. My last adjustment was just 2 weeks ago, right after she turned 5, and on 4/28/13 we won our first o/f class (first class and first win) and she got Grand Champion in her Baby Hunter division. She brings me so much joy, the least I can do is make her as comfortable and happy in her work as possible."

Suzanne Foster
 
---
 
"I wish I would have had this saddle (Schleese Eagle XC) when I first started riding - it would have saved me so many falls, and so many riding and training lessons that were actually trying to correct symptoms of ill fitting saddles."

Tonda Lewis
 
---
 Hi!

It (Schleese Triumph) is wonderful. There is not enough money that i could pay in training (me or my horses) that would overcome the battle I have had for 40+ years with my saddle. I cannot believe the immediate and enormous difference. Yes, please feel free to use that as a quote!! Hope is getting used to me being balanced, fluid and with her...Dancer thinks it's about time. I've used a Thinline shim pad to fit it to Dancer and that mare just turned 16 and I have never experienced rides on her like I did over the weekend.

LOVE IT, LOVE IT, LOVE IT.

I really appreciate your knowledge and care to doing the right thing for us. Look forward to seeing you for an upcoming fitting when Hope is all muscle-y.

Have a wonderful spring!
Andi Lutton
 
---
 
Dear Terry,

I can't thank you enough for helping me find the perfect saddle (Schleese Wave) for me and my mare, Soleil. I think every horse owner has had trouble fitting a saddle to a horse at one time or another, and I think we all dread the idea of a long and drawn out search for the perfect saddle. But, you made the whole experience quick and easy and I couldn't be happier. Your evaluation of my existing saddle was "right on," and it was very educational. It was nice to finally be able to understand why I was having so many issues with that saddle. But, my new Schleese Dressage saddle is just a dream! It is SO comfortable and I no longer have to fight against the saddle to maintain a good position (Yay!) And Soleil LOVES it too!!! She loves that I am better balanced on her, and she LOVES the freedom the saddle gives her through her shoulders and her back. I think she is really smiling J After only two rides she is already using her back much more and is no longer on her forehand. And my trainer, Trisha, has nothing but wonderful things to say about the saddle and about the changes she sees in Soleil. Thank you again for spending so much time with me the other day. It is obvious that you really care about your horsey clients and their humans, and Soleil and I really appreciate that. This was very definitely a "happy ending" for both of us. I look forward to keeping in touch with you and I will let you know how we progress in our dressage shows this year!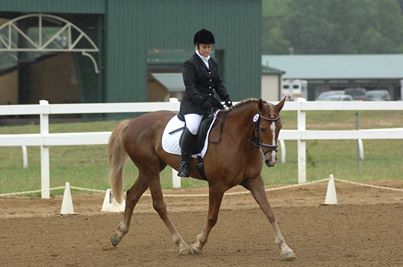 Thank you!
Val & Soleil

 
---

Hello Terry,

 I had the fortune and pleasure to see your presentation on saddle fitting. I am always striving to improve anything I can for my horse. He is my treasured buddy. Your presentation was outstanding. You taught it from the perspective of understanding, not just facts. I really enjoyed the review of the anatomy. I am contemplating attending the riding clinic by Richard Shrake in May. Attending your presentation and seeing that you are a certified instructor of his methods, encourages me that this would be a good clinic for me to attend. You are a great endorsement to his program. I live in southern Lancaster county and own my own farm. I ride a paint/quarterhorse that is a son of the stallion, Impressive. He is very intelligent and strong-willed, but kind and alot of fun. I hope to meet you sometime or at least see another of your presentations. I just wanted you to know that I will be using the knowledge from your lecture.

Thank you,
Wendy Herr 
 
---
Terry - the saddle is working out just great. I worked out the bugs, replaced the leather latigo with a nylon one and that solved the rubbing on my knee. We adjusted the stirrups so that the length is better and does not rub my ankle. These are things that you just cannot feel in a short fitting window. Charlie and I are doing well in it and I love it. It was the best investment and I thank you for putting me in this adjustable saddle. My position is perfect and it makes riding a pleasure - comfortable and secure.

Have a great remainder of the summer. I ride every day. Why not? I'm retired and can! We love your emails - keep them coming.

Julie Turrentine & Charlie
---
Top ten finish at fort valley last week! Let me know if you want us to be the new poster child for specialized saddles!!:)

I would never have believed a custom saddle could effect a horse's performance to such a degree.

I'm a believer - thanks for the careful attention to every aspect of my riding.

Shelley Rahe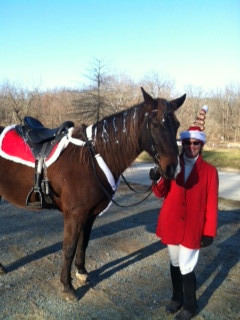 ---
"I received my Eurolight saddle yesterday afternoon. I was impressed with its looks and style. Later yesterday, Terry Peiper came and fitted the saddle. I have to tell you, as much as I was impressed with the saddle, I was that much more impressed with Terry.
She demonstrated her knowledge and passion to provide my horse Truely with a proper fitting saddle. This to me was an added feature to the quality of your product and the service that you provide. After Terry finished with the fitting, I took Truely out for a ride. The saddle and fit was perfect. There was no slipping of the saddle, I was comfortable in the saddle and Truely's movements were smooth and fluid. I would like to thank Specialized Saddles and Terry Peiper for an excellent product and service."

Mike Keretzman & Truely Wonderful
---
I really appreciate the extra time that was taken to make sure my saddle fit correctly. My horse really appreciates it too!

Kim Klinger
---
Hi!

Just wanted to let you know how much I love my new saddle! Becky and I are making significant progress with our riding. She is cantering on her right lead again, little bit better each time. I can feel her relaxing and getting stronger under me. Also, very significant, she is way less girthy. Sometimes when I tighten her girth, her ears are up instead of pinned back. I have never seen that before!

Thanks again and have a Merry Christmas!

Mia Diamond
---
Hi Terry,

I hope this note finds you well and unscathed by the recent hurricane! Mike and I raced the storm home last weekend from Fort Valley Virginia after participating in our last ride of the season there.

Mike and Truely endeavored to tackle the 50-mile Friday ride, but after laboring long and hard until after sunset, finally (and wisely!) opted to be trailered back to base camp at about mile 47. Neither horse nor rider were any worse for wear and the mare has 47 new miles of endurance experience now:)

Harley and I jogged our way into 11th place (37 starting, 35 finishing) in our new Specialized saddle in the 30-mile Saturday ride. Vet card reports zero back soreness (this is the ride that Harley was pulled from last year due to a seriously achy back) and no girthiness. Aside from bumping a couple of rocks with his feet (this ride is reportedly the rockiest endurance ride on the east coast!), Harley experienced no tripping and felt very balanced with a lot of energy to spare at the finish.

Many thanks (again!) for working hard to make sure the Specialized saddles were just the right fit and did wonders for the horses as they tackled their jobs.

As a side note, the saddles are real "attention grabbers" and we fielded plenty of questions from other riders over the weekend regarding comfort and fit. Hopefully you'll hear from other endurance folks that may be in the market for a new saddle:)

We certainly hope the photos caught both Mike and I trying hard to keep those thumbs up, fingernails in, toes and knees forward and eyes on the horizon as we learned at your clinics! I thought you would enjoy the candid photo of Mike and Truely in complete sync pre-ride in the fog, eagerly awaiting the words, "The trail is open!".

All our best,
Cherry & Mike...
and Harley & Truely, too!
---
"Another happy customer"

Marcia Theodoredis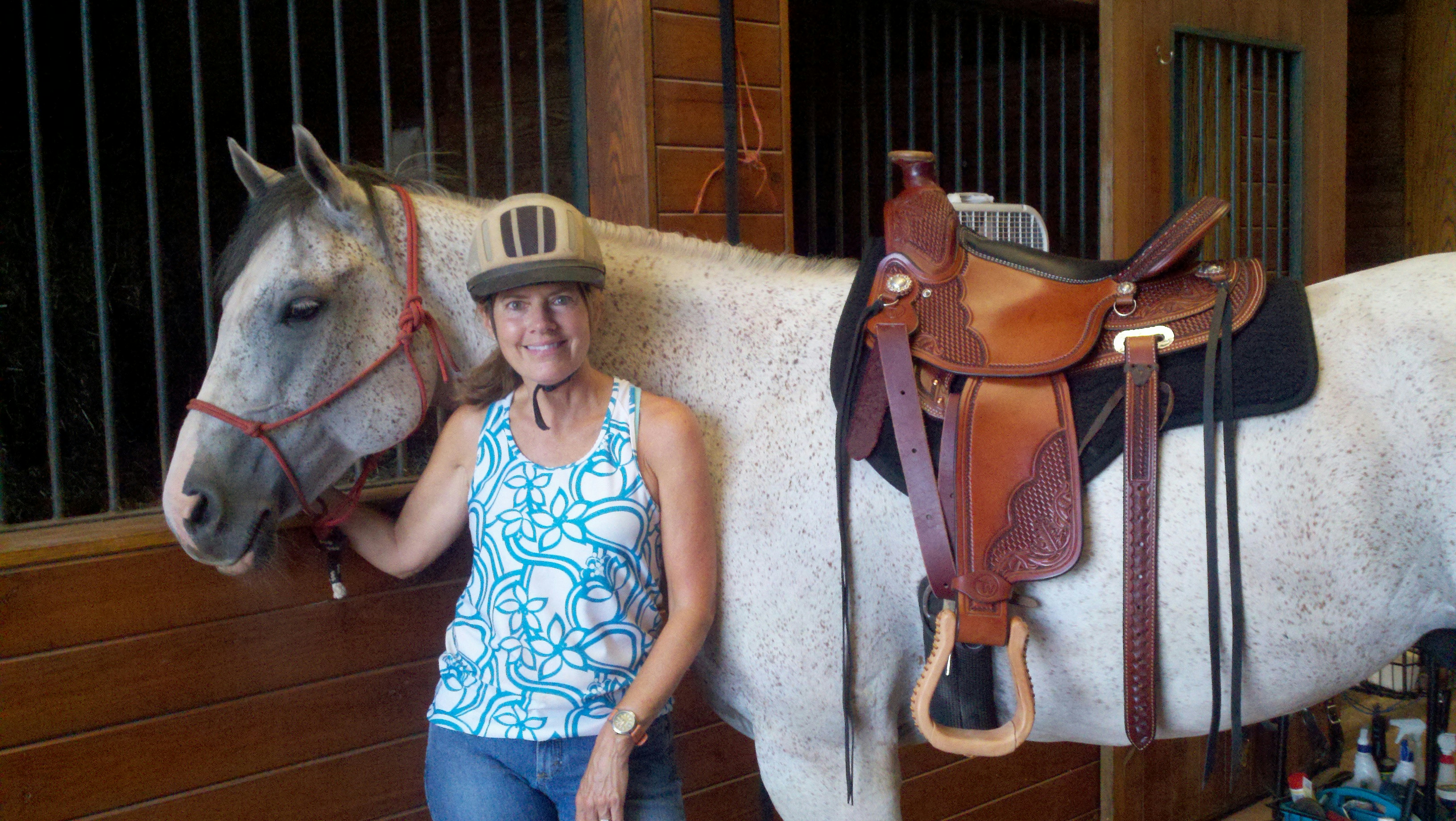 ---
Hi Terry,

Just wanted to drop a quick line saying that your clinic on Saturday was fantastic! :)
I have really missed participating over the last year or so - but didn't realize HOW MUCH I MISSED COMING until I was there again this weekend.
Keeping Boone sound has been a struggle - but when/if I get him sound or I get a 2nd horse - I will definitely be coming to more lessons and clinics :)
Thanks for having me and thanks for helping everyone like you do :)
-Heidi Seifert from Shippensburg, PA
_________________________________________________________________________

"Who would ever believe this is the same pushy, ill mannered yearling I started bringing down there just a
summer ago? Pretty good results with the Shrake/Peiper methods, I think!! Can't wait for the clinic! Hoping for decent weather!!"
Tonda Lewis from Millerstown, PA
_________________________________________________________________________

"I was SOOOOO excited, it was great! I have seen so many little changes in her since Saturday, that its incredible.  Can't wait til you have another clinic. Thanks again for everything, I feel like I have a new horse!"
Heidi Seifert from Fayetteville, PA
________________________________________________________________________

"Many Thanks to you & Micki for a wonderful day. The Level 1 clinic on May 19th was just awesome! You provided me with the basics I needed. Such simple things can make a huge difference. I really appreciate the use of your 'rhythm collector' and can't wait to use one in my own training routine. I expect to be back later in the year to continue on to a Level 2 clinic. See you then!"
Jeanine Osman from Mechanicsburg,PA
________________________________________________________________________

Hey,
Just wanted to let you know that I'm still smiling! :*) I've always enjoyed coming to your clinics - but today topped them all! I just really like Carter - first love! ;*)"
Colleen McCallus from Enola, PA

_______________________________________________________________________
 
Hi Terry,
I sure felt like you were speaking directly to me with regards to the feed appearing through the
hole!! lol!! But that was before....

You have no idea how much all of your words sunk in during our riding lessons. Every time
I'm around Stuey I thank God for the time I spent with you and everything I learned (even though
I'm sure it's just the tip of the iceberg). He's recovered nicely from his laminitis and we're back
to riding again. I've been trying to work with him at least once a week (tough to do with the heat),
and it's going very well. We stick to our field and don't go far, but we're going. I use the same
routine you do - brush, clean feet, then tack up and Stuey seems to really enjoy it. We go a little
further from the barn each time and I can feel he's really starting to trust me - and I know it's
because my confidence level has increased and he can feel it.

I'm having a great time and a lot of fun with him and thank you so much for all of your advice
and time!!!
Thanks Terry !!


Theresa Richwine, Mt. Holly Springs, PA

 ________________________________________________________________________

Thank you, thank you, thank you from the bottom of my heart and Nipper's to. As you know, I
lost my faithful friend Sysco to an unfortunate mishap a little while back. That is what brought
me to buying my new horse Nipper. Nipper is quite different from Sysco but still reminds me
of him in so many ways. I have had a long struggle with Nipper. I was afraid that we were not
meant for each other, but, then my sister-in-law, Kim gave me your name and told me that I
should contact you. A big thank you Kim. Terry you have shown me that Nipper needs me to be
a strong leader, I still have a way to go with that but with your help Nipper and I will be fine. I had
a wonderful time at Level 1 and Level 2 clinics. Level 2 was the best. I am so happy with the results.
You and your assistants are all wonderful people and I am glad to have gotten to know all of you.
You have given me my best friend back and that means a lot to me and Nipper. Nipper and I are
looking forward to continuing lessons with you. You have taught me so much in such a short
time. Thank you, thank you, thank you for your help.

You are truly a wonderful instructor.
Sincerely,


Tammy Smith from Blain, PA